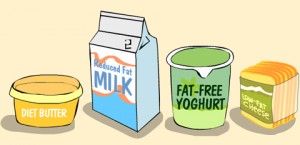 When shopping in the grocery store, I'm sure you have noticed all of the "low fat" or "no fat" labels daunting you to make a healthier choice. But are these really the healthier options? Many times these foods, while having lower fat contents, might actually have other things in them to improve the consistency and flavor they lack due to the absence of fat. These additives include sugar, thickeners, salt, and sometimes even flour, which can actually increase the calorie amount of the food item, make it less nutritious, and leave you feeling less satisfied. So what can you do?
If you want to eat low fat foods, be sure to read the labels.
Read the label of your product and compare it to the regular "full fat" version. Check things like the total amount of calories, sugar and sodium contents, additional ingredients, and serving size. These can all be indicators of ingredients you might want to avoid.
Most importantly, fill your diet with healthier fats.
The American Heart Association recommends that up to 30% of our daily diet should be fats. This doesn't mean that one third of your food should consist of potato chips and fast food, but rather healthy fats like fresh avocados, olive oil, good quality fish, and lean meat. Try to avoid consuming large amounts of saturated fats (found in animal products like butter and most red meats) and trans fats because these can raise the bad cholesterol in your body.
If you need an idea for a recipe full of healthy fats, check out this delicious meal with salmon, mango-avocado pico de gallo, and coconut rice.